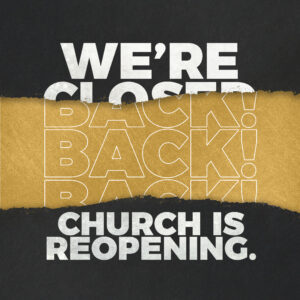 Join us for outdoor Worship on Sunday @ 9am
"Under the Big Top" – 60×100 Tent Now Onsite!
These services will be in accordance with State and County Directives pertaining to Houses of Worship that went into affect on June 5, 2020.
It is important that we open in a safe and responsible way. Please plan on attending under the following directives:
– Hand Washing is STILL Important
– Hand shaking, hugging, and other social contact should still be avoided
– Social Distancing is STILL important – additional spacing for seating will be provided and we recommend only sitting near/next to those with whom you live.
– Distribution of materials (hymnals, bulletins, offering plates, etc) is currently suspended.
– Closed-quarters small meetings (Bible Fellowship, Sunday School, etc) will not immediately resume – but stay tuned!
– Anyone who is ill or showing symptoms of being sick should avoid services and meetings. Join us online!
– Elderly and vulnerable folks should take extra precautions, which may mean worshiping virtually for a while longer even when onsite services resume.
– Face coverings are required indoors; face coverings are optional outside.
UPDATE: July 10 –

AACo. Executive Pittman now mandates that face coverings must be worn not only indoors, but outside in public areas where 6ft distancing is not possible. For our outdoor services, if you are seated, our seating configuration automatically puts you at a 6ft distance from others; no face covering is required. However, please be mindful of this new directive as you gather outside before/after the services. If you are not appropriately socially distanced, please wear a face covering (unless it would be medically prohibitive for you to do so).
Is this like a drive-in service?
No, Unlike our drive-in services, we are allowed to gather outside of vehicles and seating will be provided. If you are more comfortable staying in your car, that's OK, too, and there will be designated spots for that.
PLEASE BE ADVISED: with our tent now on-site, our drive-in spots are somewhat limited. Please reserve these spots for folks that need them – we want them to be available first and foremost to folks who aren't ready to "join the group" due to age, vulnerability, or other mitigating factors. Unfortunately, there are not enough spots for "tailgating." If you can join the group under the tent, please do so.
Will there be childcare available?
We are diligently working on how childcare, Sunday School, and other activities can resume ASAP in a safe and responsible way. Until announced otherwise, there will be no childcare or Sunday School. Your children are welcome to join our worship services and actively participate.
We have a 60x100ft tent onsite which will accommodate our entire congregation with plenty of room for social-distancing. The tent provides shade from the sun and protection from the rain. We would only cancel services in the event of a SIGNIFICANT (think hurricane-force) weather event.
Why are we meeting outside?
Several reasons: it allows us the space to all meet together, even with proper social distancing. It is a bit safer than being in closed quarters, and it allows us the option of worshiping without a face covering on, which is required for indoor activities.
Can we sing? I heard singing was forbidden/dangerous?
There is a recommendation to avoid congregational singing INDOORS for now. (another reason to hold services outdoors) We WILL sing, loudly and proudly during our outdoor services and encourage you to sing along. Lyric Sheets will be provided, or you can find all of the lyrics HERE each week so you can print in advance or use your phone/tablet.
Yes; the building will be open, and restrooms will be available. Please wear a face covering in the building. Please wash your hands (even if there is no pandemic).
I'm still uneasy about returning to large gatherings. What should I do?
Our services will be made available online by 4pm on Sundays. Please continue to worship with us virtually. Many folks have different reasons and move at a different pace through all of this. You are welcome when you're ready, and we can connect digitally until then.
This may all seem like a lot, but we are confident that we can resume meeting together in a safe, responsible way. It's exciting to be able to worship together! If you have ANY questions, please contact the church office – office@lakeshorebaptist.org